Dharma Acid Dyes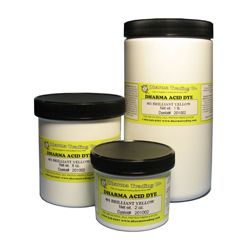 USE FOR: Tub Dyeing or direct application techniques (with steaming)
USE ON: Protein fibers like Silk, wool, hair (fur), feathers, etc., also works on Nylon. Sometimes used on leather, particularly the "pre-metalized" colors
Product Details
1+
2 oz. priced as low as...
$

2.25

8 oz. priced as low as...
$

6.45

1 lb. priced as low as...
$

10.95

5 lbs. priced as low as...
$

52.50

10 lbs. priced as low as...
$

99.80
Average Customer Review

Click here
to add or update a review for this product.
MOST HELPFUL REVIEWS

12/17/2015
When I began this yarn dyeing "hobby" I believed I could get by with one company's acid dye. I was wrong. Berry Crush is a fabulous example. It is my drop-dead go to berry color. I cannot duplicate it with a mix and even if I could the color is so close even with different lots there is no point. Dharma's True Black is unbeatable. It is my go-to black and the only one I use ever. No one else makes one that does not have an undertone I find unpleasant. Okay it's black it smells but not as horrible as some others. It overdyes almost anything with the Depth of Shade reachable to completely cover a bad dye job or to enhance another color and add depth. I use it in my Malachite Colorway all the time. I put Citric Acid Urea water and black in a spray bottle and spray it over a green I make for the dark lines in Malachite. The color behaves and kisses the green tonal with enough black to really make it look like the polished rock. Just a lovely effect. The Sapphire is better than most colors and truly reminds me of sapphires. I use that exclusively for a Sapphire Blue I use only on Alpaca mixes and am thrilled every time. The bleed is just not there as long as I don't overdo it and use the proper amount of acid. For one of the other dyers who said the Peacock Blue is hard to dissolve yes it can be. Try this. Mix Urea with 70% rubbing alcohol in a 5050 mixture I mix mine all at once but I use a one and two percent dye solution. I always mix the stubborn blues with heated but not boiling distilled water. I mix a paste and yes you can smell the alcohol in the mix but it goes away quickly paste it up with just enough water to wet my dye and let it sit that way for 10 minutes. I then add more water mix and let that sit. I finish with the rest of the water and stir till my arm feels like it cannot stir any longer. Allow it to cool cap it (I use glass ball jars that I sterilize) and shake prior to opening in a utility sink with gloves on. I can get it to mix perfectly if I do that. Yes it is a pain but the color is lovely and if you use Dharma you really need it. I've also found it behaves when mixed with other colors at the outset. If I want a green for example and Peacock is in the green I mix the yellow and green by weighing it in a container on a jeweler's scale. I still use alcohol when I mix (it helps preserve it a little and there is something in the rubbing alcohol mix that just helps mix the dye I could go tech on you but I know it but I'm not sure I could explain it properly) and it stays in mixture pretty well. I still shake the container with the lid on. If you do use canning jars allow the mixture to cool prior to capping. I didn't once and when I pried the sealed top open there was a color explosion in my sink over my gloves onto my apron and a mask was one of those things I really needed and was glad I was wearing. I do not use Dharma exclusively. I do go-to some of these colors both the primaries and mixes enough to really want to share my positive experience. I would never consider dropping the Espresso Bean from my line. The gorgeous purple undertone is not available anywhere else and it is so lovely.
Was this review helpful?


173
of
173
users found this review helpful.

8/2/2013
I am a new dyer and have been experimenting withthese dyes for 5 months now. I have finally got a lot of the kinks out of the process. I use an electric kettle to get the water boiling hot to mix with the dye. That solved a bunch of headaches! Next with Fire Engine Red Navy and True Black I leave them overnight to finish exhausting and next morning rinse. The dye is completely absorbed and there is little to no bleed at all. I should add that I use double the amounts of dye in these colors to get the deep rich red navy and black. Works beautifully!! I still am not having luck withthe Peacock Blue though. It just won't dissolve no matter what I do. The Cayenne Red and Fire Engine Red do gel up when stored. I just heat them for 30 seconds in the microwave to take care of that.
Was this review helpful?


175
of
177
users found this review helpful.

8/23/2010
Wow! Side by side trial with 3 companys and I have to say this dye Rocked! Nice nice black!
Was this review helpful?


50
of
50
users found this review helpful.

5/21/2010
The colors that I have used are consistent no problems with dissolving or color shifting. The black is black.
Was this review helpful?


31
of
31
users found this review helpful.

5/24/2010
The value on these is great! I figured I'd give the "off" brand a shot and was pleased with both the volume of dye in the container and the luscious colors that resulted.
Was this review helpful?


32
of
34
users found this review helpful.
MOST RECENT REVIEWS

12/2/2023
Dharma Acid Dyes are my workhorse dependable dyes for my hand dyed yarn business. I love the ease of use the range of colors and the price point. My only con is that some of the vital colors I need can be out of stock for months sometime over a year (case in point Twilight Grey) which makes it difficult to depend upon if you are using them for repeatable colors for your business.
Was this review helpful?


0
of
0
users found this review helpful.

6/6/2023
This dye saved my dress. After repeatedly ending up with hot pink splotches on a light blue silk dress from some supermarket dye I decided to strip the color for a fifth time and make one last attempt at fixing it with the Dharma Acid Dye. From now on this will 100% be my preferred product and technique. It took less work used less water and gave me a better outcome. Dyeing by fabric weight gave me so much more control over the process and allowed me to tone from a greener blue to a more neutral blue without darkening the color at all. Needless to say I'm a fan.
Was this review helpful?


1
of
1
users found this review helpful.

8/7/2022
This was my first time using acid dye on silk. I used the color oxblood on 6 yards of Dharma's 8mm silk habotai. The direction were easy to follow and the silk came out better than I expected! I cannot wait to use this again and will definitely be purchasing more colors. Thank you so much!!
Was this review helpful?


1
of
1
users found this review helpful.

3/6/2022
I'm not a high-volume dyer but I've dyed a fair amount of stuff over the years. Dharma acid dyes are the only ones I've tried for wool and they work so well that I don't feel like I need to try anything else! Stovetop dyeing is a simple process. I do a one or two skeins of yarn at a time in a stainless 8 qt pot with no problem. I got a 20 qt pot at a thrift store for dyeing bigger things. The only trouble I've had with dyes not dissolving well are the Chartreuse a few years ago but I just bought more and it dissolves beautifully. Good to know they recognized a problem and fixed it!In case anyone's looking for color specifics: Berry Crush is a drop dead gorgeous magenta chartreuse is a bright olive green if you use a bit more than the recommended amount You can get a lovely spring green with it (light green with yellow undertone). Caribbean blue is a very bright turquoise lilac tends on the purple side with a slight gray undertone. Midnight Blue has a definite purple cast. The only thing I'm not crazy about is not the dye itself but the Dharma color chart. The samples are too small to get an accurate idea of the color. They should include a written description of the color as wel and it would REALLY help if they were arranged in order of color gradations.
Was this review helpful?


7
of
7
users found this review helpful.

8/23/2021
I just got my dyes in and these are the first time ordering Dharma acid dyes. I started up my cooker pot and got some dye in the water right away. I followed all the instructions and my colors are amazing. I got the safety vest orange and kelly green and black in the pot and the colors are beyond what i expected. There is no light shades or pale variations. Its a BAM exciting colorway that im in LOVE with. Perfect for my halloween start. I will be buying more as i can afford them. Thank you SO much for making such beautiful colors. My only disappointment is that what color is the dye. Its a black container with a white label and the name cleanly printed on it. While kelly green i know is bright green. Other shades like orchid pink berry blast and radioactive are a bit more confusing. Ill have to print out the colors or buy one of the color posters so that i can tell what colors are in my jars. I wish the label had a little dab of color on it so that i knew what base shade is in the jar.
Was this review helpful?


3
of
3
users found this review helpful.

12/7/2019
Bought several colors to experiment with dying wood in a modified Shou Sugi Ban technique. I'm very happy with Dharma's products. Good results from my very first usage!
Was this review helpful?


2
of
3
users found this review helpful.

11/2/2019
I have used Dharma's acid dyes on silk nylon (net moleskin and milliskin). with beautiful results. The only two colors I have had issues with and this can be the difference in hose fabrics take dye is with the blush apricot and the champagne. Both dyes are beautiful and stable on silk. On the nylon the colors shift between dying the fabric at a high(er) temperature and rinsingsetting the fabric and the dry fabric. I have had the color literally change while rinsing from an apricot bordering on orange to a mottled pink to yellow sallow skin tone.At one point I tested 42 samples of the same fabric on different dilution of the same batch of dye and got 42 different shades it drove me nearly insane.
Was this review helpful?


4
of
4
users found this review helpful.

10/20/2019
Tobacco leaf is a gorgeous color! If youve ever seen tobacco drying in the barn then youd agree they nailed this color. It doesnt look like the color swatch on the website. I kettle dyed and obtained coppery browns from very dark to mid range using 2% mix. Moss green again is spot on. When kettle dying with minimal agitation I obtained dark mossy green to a lighter yellowy mossy green. Again it doesnt match the internet swatch too well. I really love these dyes. I am a beginner and this was a very easy process.
Was this review helpful?


8
of
8
users found this review helpful.