Natural Dye Powdered Extracts
Most 1 lb. Natural Dyes Are Special Order. Please Call For Details.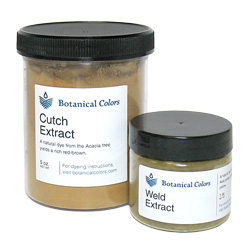 USE FOR: Immersion Dyeing, Direct application
USE ON: All Natural Fibers
Product Details
1+
Priced as low as...
$

9.89

1 lb. - Call for Availability
$

34.85
Average Customer Review

Click here
to add or update a review for this product.
MOST HELPFUL REVIEWS

9/29/2015
The madder powdered extract worked perfectly. I dyed 3 yards of raw silk. Preparing the fabric and following the dyeing process recommended helped me achieve the exact color I wanted--deep rust.
Was this review helpful?


24
of
26
users found this review helpful.

5/15/2015
Really it is very nice to get this concentrated natural dye product online. As an experienced scientist in natural dyes I appreciate the effort and I strongly recommend the natural colours derived from natural resources to be used on textiles handicrafts etc. A. Sharada Devi
Was this review helpful?


20
of
22
users found this review helpful.