Toddler 100% Satin Polyester Reversible Cape. Let your toddler's imagination run wild with the possibilities offered with this toddler cape! The satin polyester is smooth and shiny just like their favorite superhero's cape. It has a reversible design for endless possibilities and a velcro brand hook and loop fastener. Dye the one with the white side easily with Jacquard's iDye for Poly Fabrics or hand paint designs with any fabric paint using Jacquard AirFix to avoid shrinkage from heat setting. Also works with heat transfers and sublimation on the lighter colors. Foils, crystals, fun!
Double needle hem bottom for a clean, finished look and easier printing
Side seam construction for exceptional quality and durability
EasyTear label for additional comfort and ability to brand as your own 
Machine washable/ tumble dry low
Made in: INDIA (IN)
One Size

Center Back Length - 21"
Length From Velcro Tab - 26"
Width At Bottom - 17"
Neck Circumference When Velcro'd - 14.5"
Neck Area (Velcro Tab to Tab) - 16"
Cape Printing Tips
To help make the most of your investment, LAT Apparel has provided tips for printing on their 100% satin polyester capes.
During screen printing, dye migration can possibly occur, as the heat during drying could cause the polyester dyes to revert back to a "liquid" state. This might cause the ink to migrate from the cape to the screen print that is placed on the garment. Improve results by following the tips below:
Screenprinting:
Use inks formulated for polyester printing offering high bleed resistance like a poly white or ultra white. In some cases an under base gray can be very effective.
Use a 110 or lower mesh count.
Flash between each print for 3 seconds to the recommended surface temperature. Check with ink manufacturer for specifics, but as a guide: Conventional inks - 220 degrees Fahrenheit; Low cure inks - 190 degrees Fahrenheit.
Check with ink manufacturer for their recommended cure time and temperature. Cure no higher than 290 - 300 degrees Fahrenheit. If possible, use low-cure ink products to allow for lower temperature settings in the oven during the curing process. These products can cure as low as 270 degrees Fahrenheit.
Oven dwell times may vary, but most ovens require a minimum of 45 seconds.
Heat Transfers:
Use transfers that are made for 100% Polyester garments and formulated for bleed resistance.
Check with transfer manufacturer for their recommended cure time and temperature. Apply heat no higher than 330 degrees Fahrenheit for a maximum of 6 – 8 seconds with medium pressure.
DTG Printing:
Screenprinting and Heat Transfers are recommended over DTG printing for our capes. However, if you would like to DTG our capes consider the following tips:
Pretreat capes with a pretreatment designed for polyesters.
Cure the pretreat at low pressure with a sheet paper between the cape and plate for 30 – 40 seconds at 300 degrees Fahrenheit.
Insert a sheet inside the cape before printing to prevent dye migration to the back.
Print two white passes at 50% resolution to create a quick dry surface.
Print CMYK design on top of dried white ink.
Allow shirts to air dry a minimum of two hours, but the longer the better.
Curing can take place the following day if time permits.
Utilizing a tunnel dryer is preferable to a heat press for curing as the heat press may reduce the quality of the design.
Sublimation:
White and light colors like pink and silver can be sublimated.
Separate the front and back of the cape while printing either with paper or by only pressing one ply.
Check with your sublimation equipment and ink manufacturers for their recommended temperature and times. Apply heat no higher than 400 degrees Fahrenheit for 40 seconds with medium pressure.
Spiderman Cape and Mask Tutorial

Spiderman Cape & Mask
Let's get started!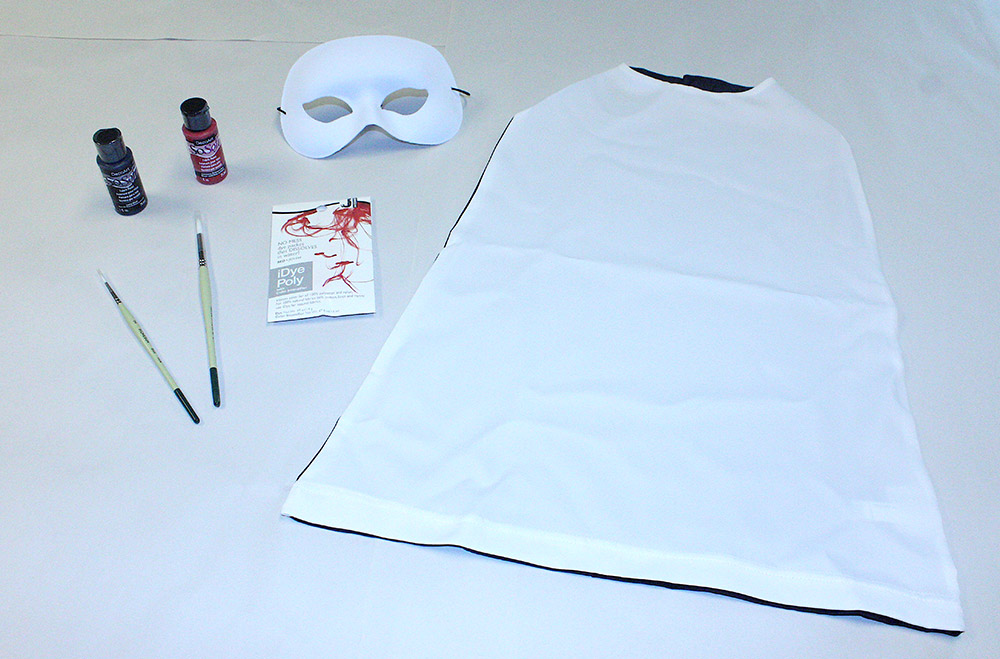 Begin by pre-washing your cape to make sure it is ready for dyeing. It can be dyed while still wet, so there is no need to dry them after being pre-washed (but do make sure it has been wrung out and isn't still sopping wet).
For this project we're going to use the Polyester version of iDye. We've chosen the Red # 449 polyester iDye to best match our spidey inspiration. We'll be using the stove top method, which is an incredibly easy way to work with iDye. To begin, simply fill a fill a stainless steel or enamel pot with just enough hot water for the fabric to move freely and place over a stovetop. Set your stovetop to medium to high heat.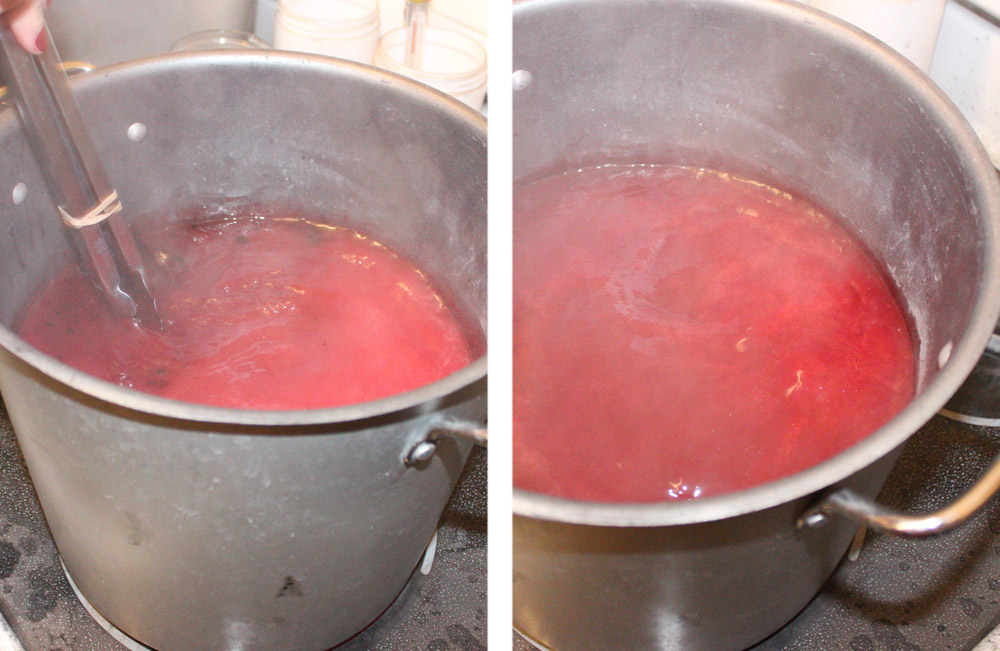 Once the water has come to a gentle boil, drop in your iDye packet. You will also find a separate packet of iDye Color Intensifier, add that as well. Be sure to stir the dye and color intensifier quite well to make sure both dissolve fully. If the contents don't properly dissolve that can lead to clumps in the dye and spotting during the process.
Once everything is properly dissolved, add the pre-washed wet cape and keep temperature at a simmer. Maintain the temperature of the pot and stir constantly for half an hour. Constant agitation will lead to a more uniform and even color. You may also leave the cape in for up to an hour if you would like an especially dark color.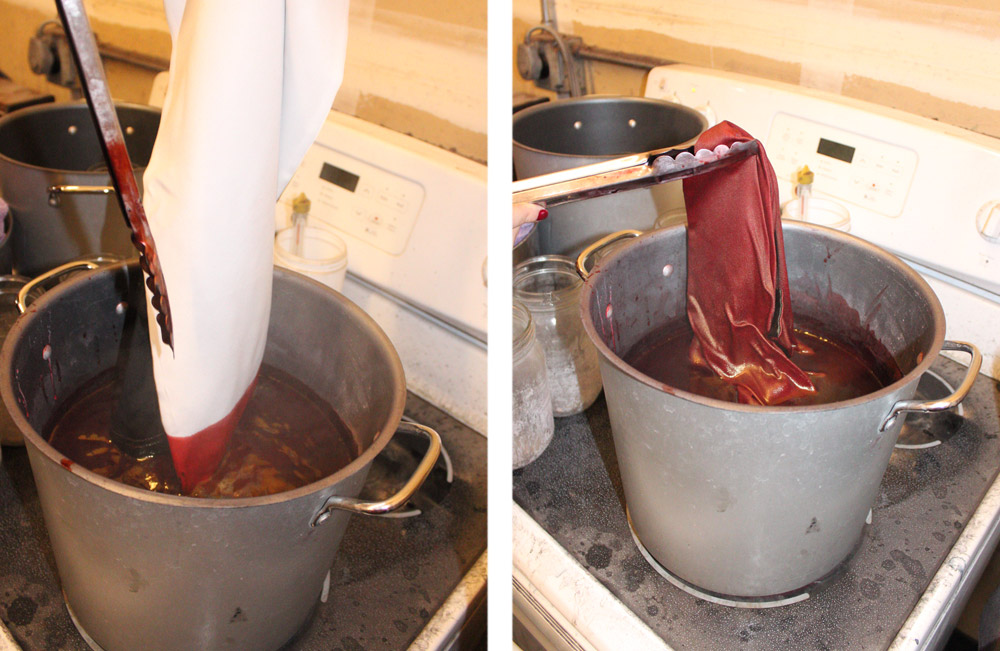 Remove the cape and rinse it with HOT water using a mild detergent. The cape can be dried immediately; we recommended doing so on a tumble dry low setting or line drying.
Once the cape is dry you can begin painting your spider outline. We suggest sliding a plastic bag or some sort of disposable barrier between the two panels of the cape so that the paint you'll be using doesn't soak through both sides of the cape.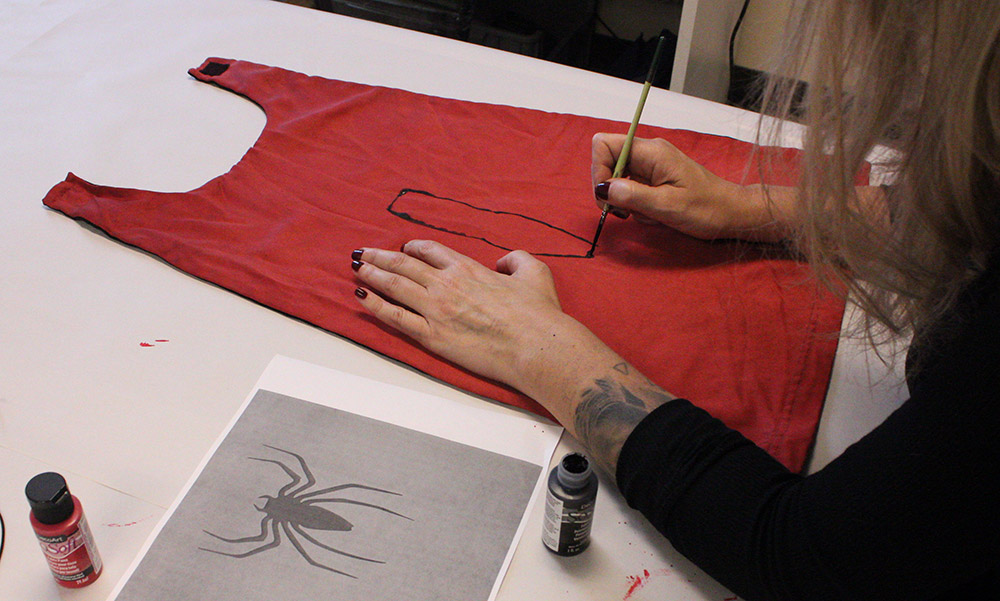 We used the DecoArt SoSoft Opaque Paint in Lamp Black (#24) and the Richeson Round Silk Brushes, in particular sizes two and eight. Once the painting is complete allow the cape to lay flat and the paint to dry completely. We went with the SoSoft paint because of the small amount of paint required for this project and because it requires no heat setting.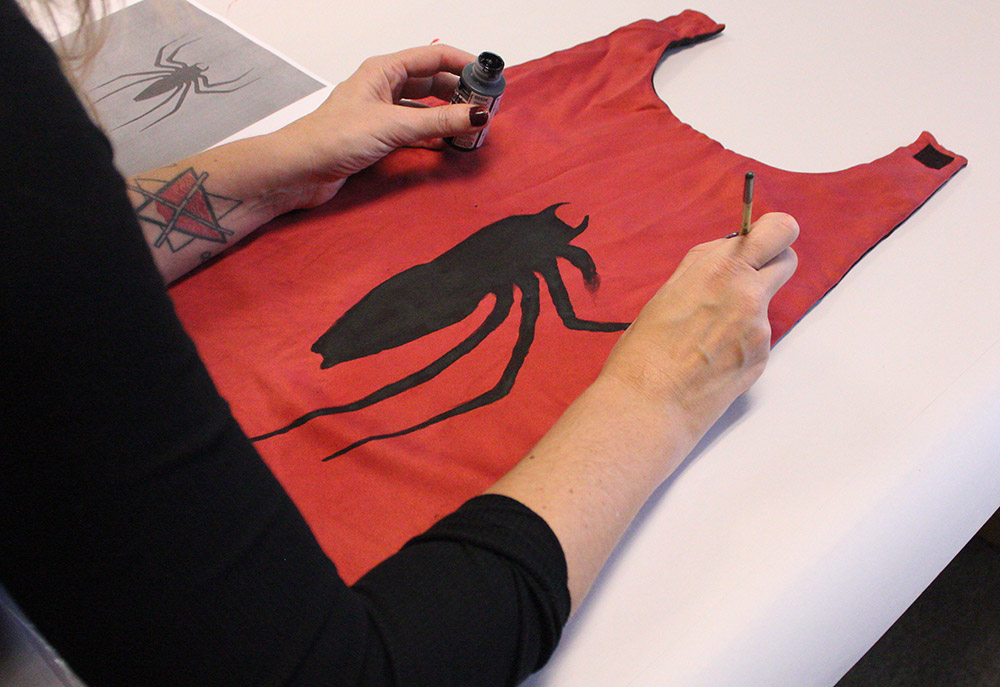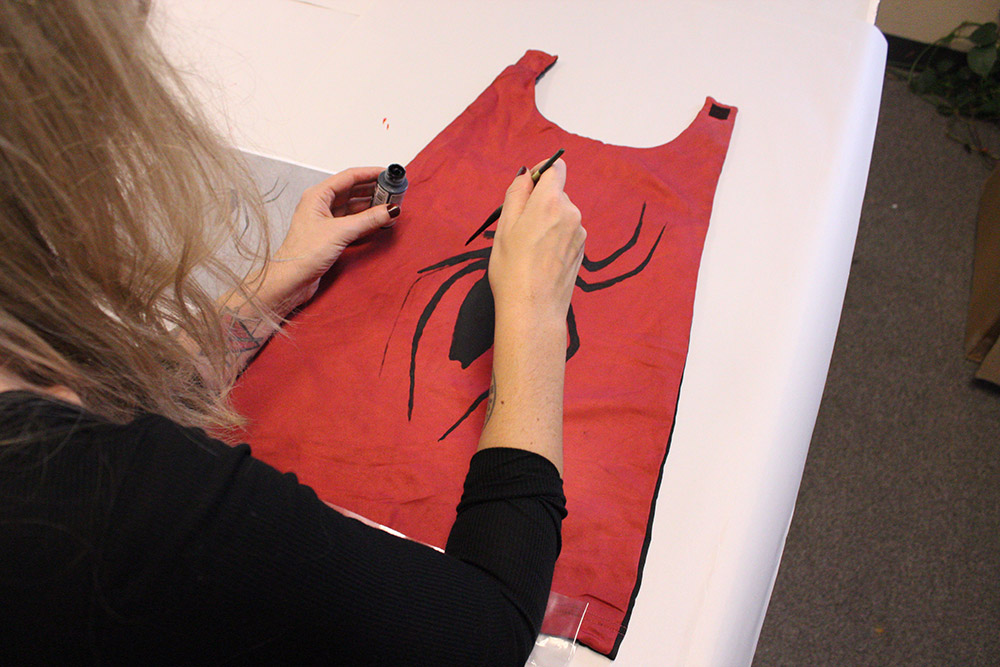 For the mask portion of this project, we used a Half-Face mask in white (our Mask # 4). The mask comes with a black elastic cord which can be removed temporarily if you would like (we found doing that makes it easier to paint the mask). We painted the entire surface of the mask using the DecoArt SoSoft Opaque Paint in Christmas Red (#25). Once the mask is fully painted red, allow for it dry completely before moving onto the next step.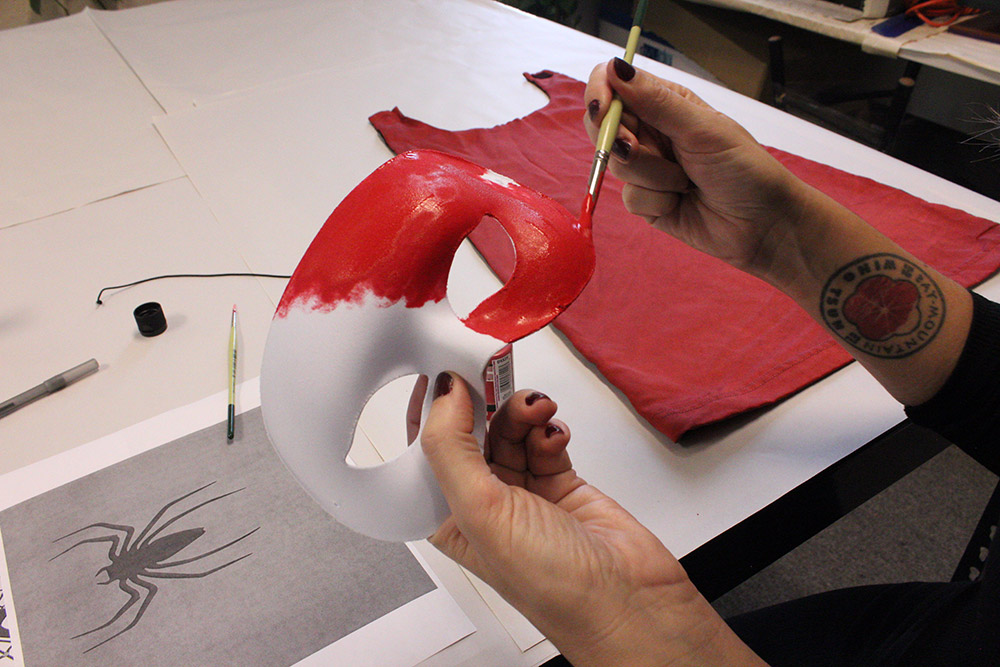 We wanted the eyes of the mask to be more oval in shape, so we lightly traced an outline and used scissors to cut the eye holes into the preferred shape.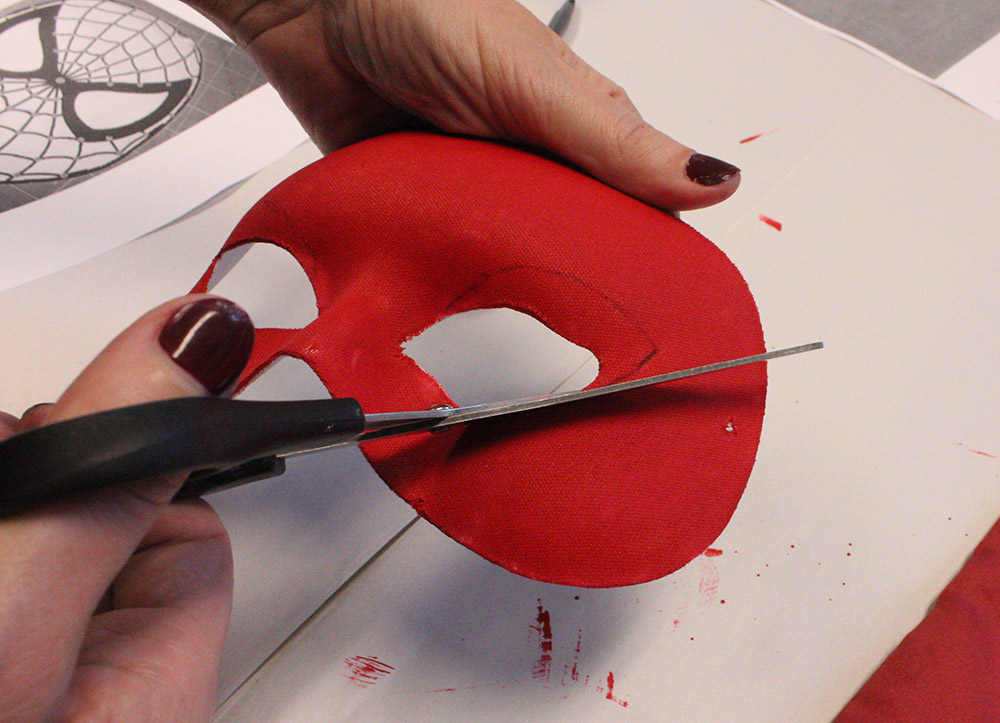 Now we can paint our web outline onto the mask. We used the same DecoArt SoSoft Opaque Paint in Lamp Black (#24) that we used to paint the spider symbol onto the back of the cape. We found that one 1 oz bottle of the black was more than enough for both the cape and the mask.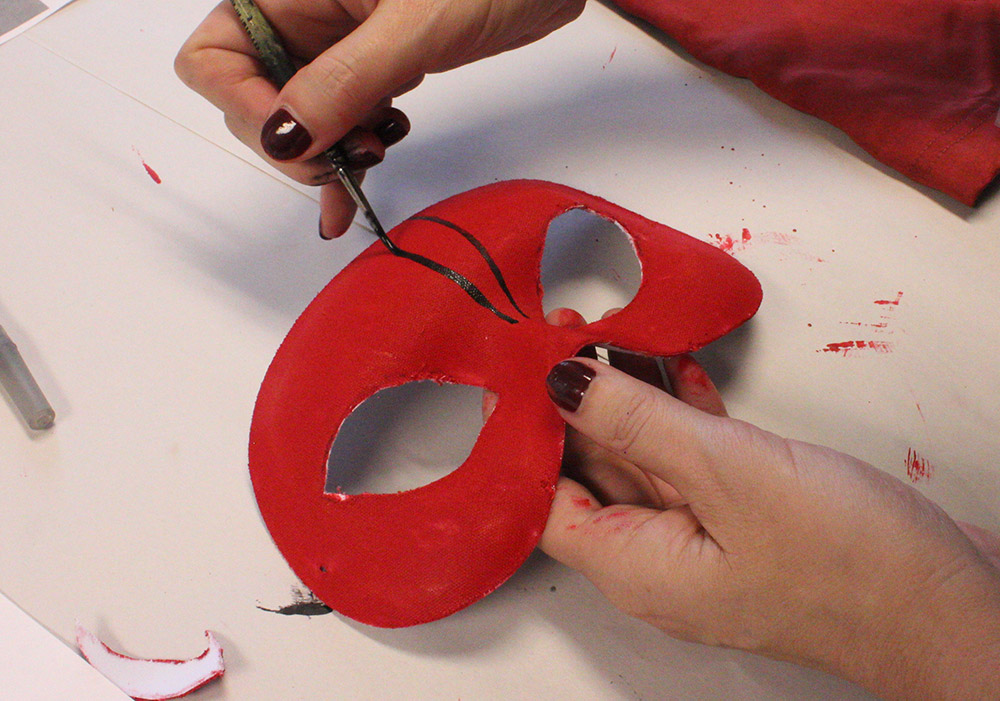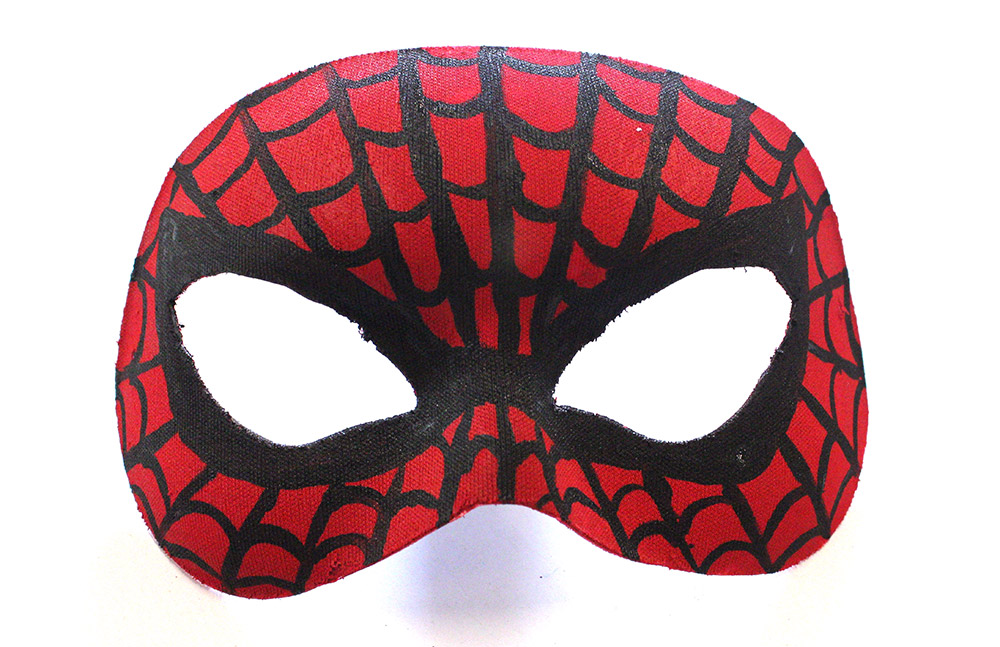 Be sure to let both the mask and the cape dry fully before wearing. Once the mask was dried we added the elastic back onto it. The elastic can be adjusted as needed for toddlers of all sizes.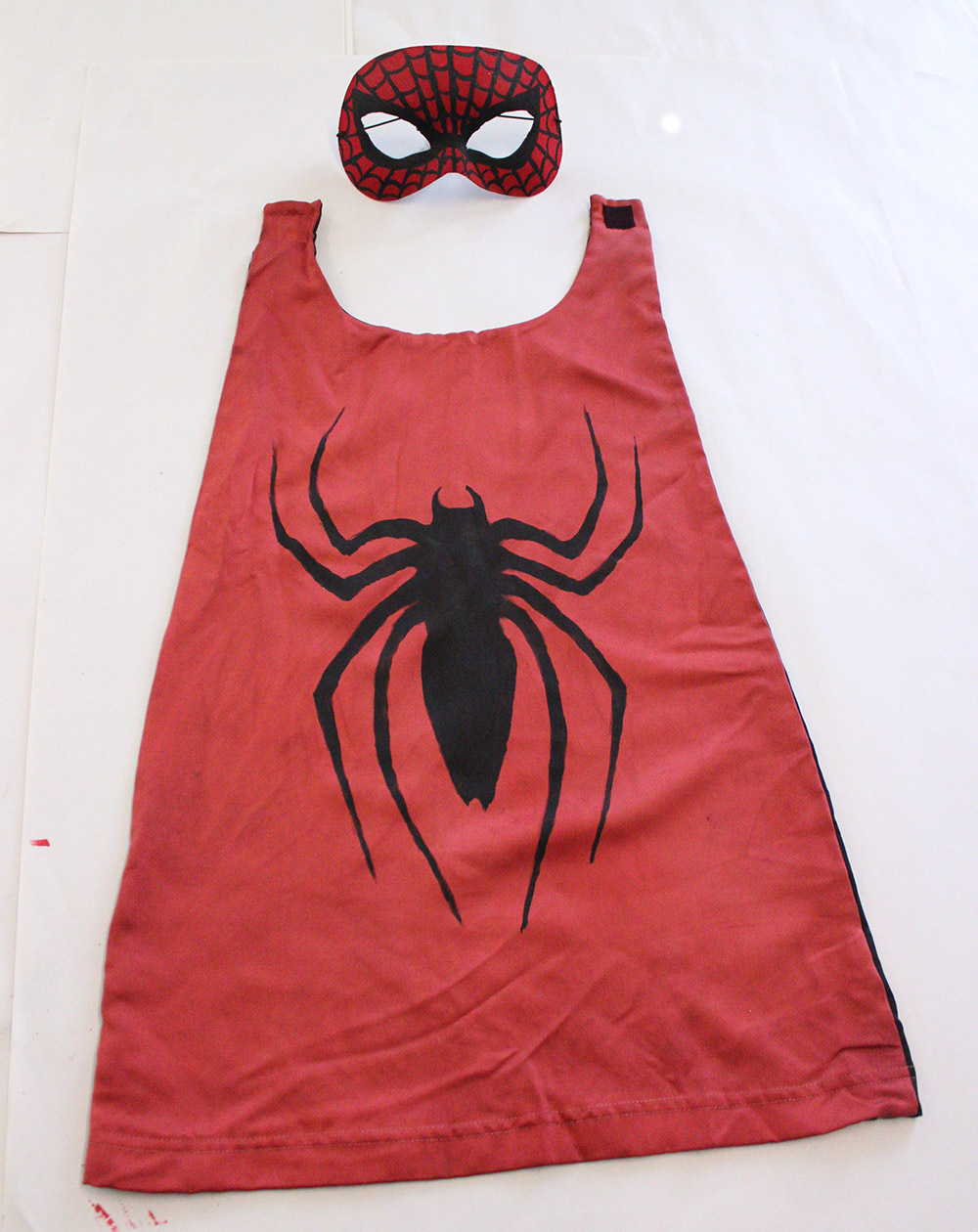 Average Customer Review
Click here
to add or update a review for this product.
MOST HELPFUL REVIEWS

10/2/2019
Very small..narrow and short..ugh
Was this review helpful?


2
of
2
users found this review helpful.

10/15/2019
My toddler love his after we painted it so he could play his favorite hero He's very excited to wear it for Halloween!
Was this review helpful?


1
of
1
users found this review helpful.