Featured Artist : Miriam Jacobs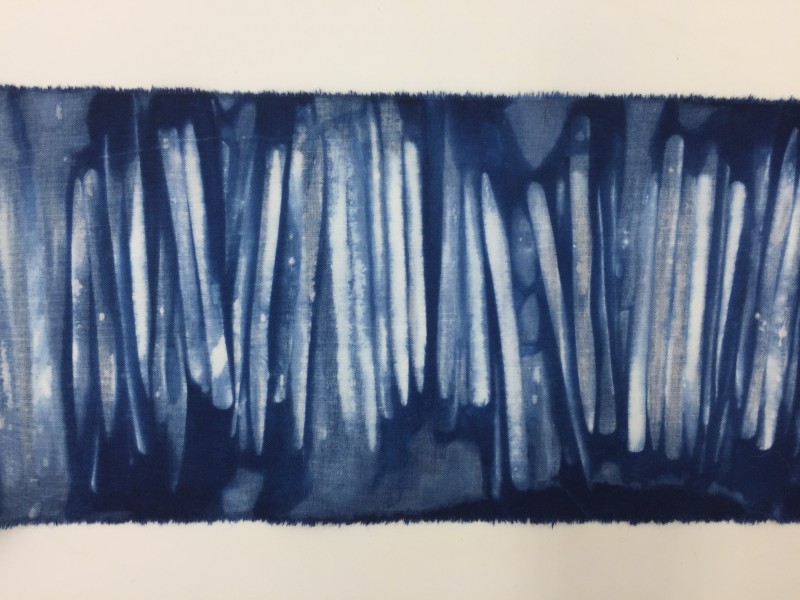 Artist Bio / Statement
Never in a million years did I think I would be making art that could be called textile design - this despite the fact that in addition to more traditional drawing, I have also been endlessly drawing geometric designs on pretty much any surface at hand —- much to the chagrin of various teachers and bosses! So, it really shouldn't come as any surprise that I find myself captured by pattern and texture and am on a constant watch for anything that I could turn into a pattern.
While much of my energy has been devoted to working on paper with disperse dyes that then get transferred onto synthetic fabric (I know, I know, sorta sinful!), I have also been experimenting and teaching other kinds of surface design on natural fabrics. I have made Shibori scarves, table runners, batik lunch bags, prayer shawls, wedding canopies, pillows and wall hangings. I have found my inspiration in learning the traditional methods at first, and then seeing how I can use different tools to make unexpected kinds of images.
I am fascinated by being able to create images that do not involve drawing. Mind you, this is close to my heart and I loved nothing more than full days of figure drawing in art school, and to this day, never tire of discovering new, gorgeous lines and forms on a model. However, I am finding that I am also intrigued by the beauty of a pattern - I seem to look for patterns that can hypnotize.
I have used many Dharma Trading products over the years, and have called them on the phone in desperation for an explanation of a technique, and have been unfailingly pleased at the amount of time that people have given to me. The products I use most often are Dye-Na-Flow, the Jacquard Indigo Dye Kit, Procion Cold Water Dyes, Chinese suspension hooks, and Batik wax and paraffin and tjanting tools. Years ago I bought a small Geo Knight Jet Press. For other surface design methods, I have used Synthrapol, soda ash, and sodium alginate thickener.
I have exhibited my figure drawings, work in clay, disperse dye neckties and scarves and other mixed media work. However, I am also about to exhibit, for the first time, one of my fabric pieces that I made from a photograph I took of a clay tile that I made - perilously crossing that line between art and craft. It's an interesting place to be, for sure.
Contact Info
My name is Miriam Jacobs and my email is miriamjacobs920@gmail.com and my Instagram is @miriamjacobs920.
I have no current web site but post fairly regularly to Instagram. Please contact me for teaching/exhibiting/purchasing opportunities.
Dharma Products Used
Please see the description for a list of products used.