Featured Artist : Frank Palmer
Full Frontal Quilt and Dye Works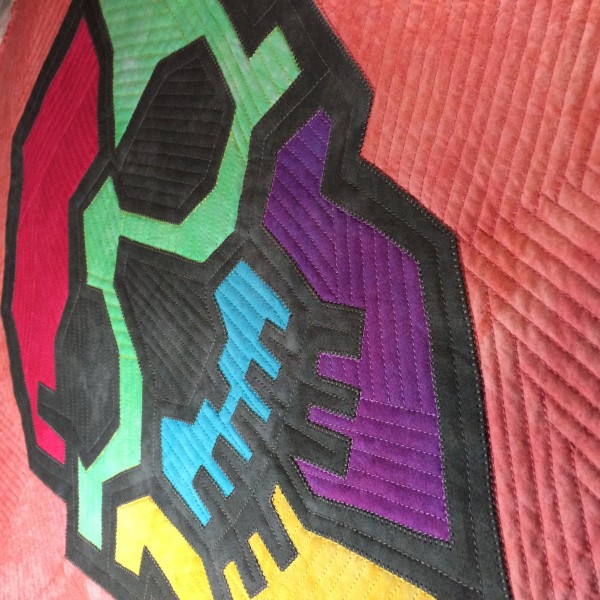 Artist Bio / Statement
I wasn't surrounded by quilts growing up and didn't come from a crafty family. But my parents owned several wool military blankets, and most had holes in them. By the age of eight, I had taught myself how to sew on my mother's Morse sewing machine, a wedding gift she had little interest in. At age 14, I patched a hole in a wool blanket by hand and liked the look, so I continued covering the surface until there were only patches, no wool. It was my first "quilt." I have developed my technique quite a bit over the years and while I help finish other quilters' works during the day, at night I makes illustrative pieces filled with the humor and pop culture references many traditional threaders frown upon.
Since I rarely make traditional bed quilts anymore, I don't have to follow a pattern or a strict set of construction rules. In my small artworks, seam allowance rarely matters, and I can develop the design more organically. Designing a quilt from start to finish before making it feels as if I'm making the quilt twice. I like the freedom to change direction midway through, at any moment, and being surprised by the finished work. I'm inspired by just about anything, but I enjoy working with other artists, such as "pop-pressionist" Trevor Wayne, to recreate his original paintings in fabric appliqued quilts, as well as designing my own work.
I have a couple of pieces based on Frida Kahlo coming up, and there's an ever-evolving notebook of unusual ideas; a few certain to shock (possibly offend), and always entertain. I'm sure with the shifting political climate, there will be some big ideas working their way under my needle. I'm currently in the process of moving my studio from Orlando, Florida, to the lovely lakeside city of Duluth, Minnesota.
I use many Dharma products in my dye process. I exclusively use Procion MX dyes, and I'm a recent convert to Dharma's Professional Textile Detergent, which keeps my colors in the fabric, and in the quilt. Every piece is a therapy session, and every finish is a little win.
Contact Info
You can find Full Frontal Quilt and Dyeworks at fullfrontalquilts.com or reach me at fullfrontalquilts@gmail.com.
Dharma Products Used
Please see the description for a list of products used.