Featured Artist : Mary Steigerwald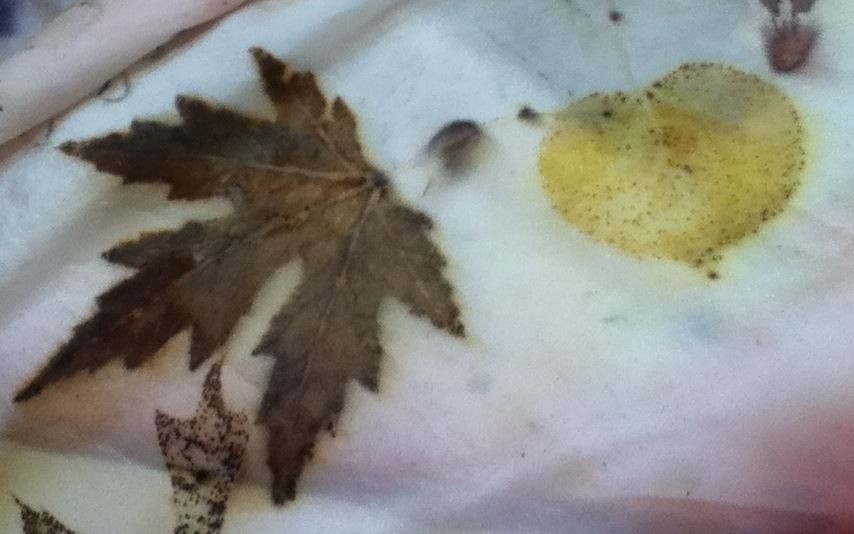 Artist Bio / Statement
My name is Mary Steigerwald and I live in the mountains of northern New Mexico. My art is based on the work of India Flint who originated the eco dye technique using eucalyptus in her native Australia. By laying leaves, flowers, berries and other botanicals onto fabric and steaming them with river water in a pot over a wood fire, I assist Mother Nature in creating magical, one of a kind, irresistible scarves, wall hangings, table runners, clothing and other items. I have lived off grid, close to nature, most of my life and I use my work as a message to reflect the beautiful natural environment where I live, collecting the materials I use from the forest that is my back yard and processing the fabrics by the river. My main purpose in this work, aside from the incomparable personal satisfaction it provides, is to inspire others to celebrate the amazing gift of Nature's own art in all its simple glory.
I love to print on Dharma's charmeuse silk scarves, as they take the natural pigments and reflect them so beautifully, and they are my most popular offerings. My other favorite is wool twill gauze that makes beautiful flowy scarves and garments and the edges can be left unfinished for an earthy elegant look. I also print their silk noil for scarves, clothing and table runners, and the silk leggings and other types of silk scarves and yardage, and even some of the cotton clothing.
The leaf of every tree brings a message from the unseen world. Look, every falling leaf is a blessing. ~ Rumi
Contact Info
Mary Steigerwald
My website is www.motherspirit.us You can see photos of my "studio" and contact me, if you are interested in seeing what is currently available or would like a custom order.
Dharma Products Used
Please see the description for a list of products used.