Featured Artist : Carole Hunnes-Nielsen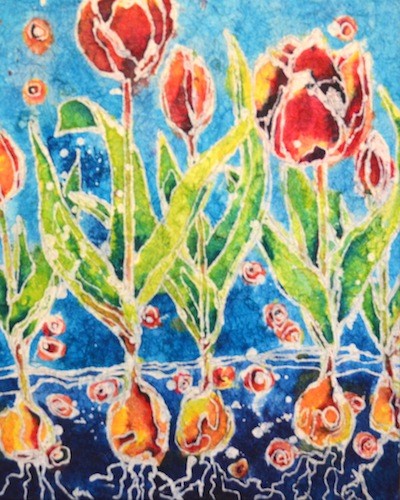 Artist Bio / Statement
Carole Hunnes-Nielsen is an award winning watercolor batik artist from Rockford, Michigan. She has M.A. and B.S. degrees from Western Michigan University and spend thirty years teaching high school art. She has focused on watercolor painting in her retirement. She works in both traditional watercolor methods and in watercolor batik. She discovered watercolor batik two years ago and it has become her favorite method of working. She enjoys using bright colors and paints in a loose style.
She has been in many juried art shows, has had several solo exhibitions and has won awards for her watercolor batik paintings. . She is also a workshop instructor. Be sure to check out her website for upcoming workshops or to contact her to teach a workshop in your area.
Carole creates watercolor batiks that are inspired by the beautiful nature in her home state of Michigan. She paints from her sketches done on location and her own personal photographs. She uses Dharma batik wax for the resist process of her work and melts the wax in her 4" wax pot from Dharma Trading Company. She creates beautiful line detail in her work using the Dharma tjanting tools. See the lines created around each shape in "Totally Exposed" and to create the details in the feathers of the "Blue Heron" painting. She recommends Dharma Trading Company to all her workshop students for batik supplies and allows them to try out her tjanting tools.
Contact Info
Dharma Products Used
Please see the description for a list of products used.