Featured Artist : Ruth Marie Fledermaus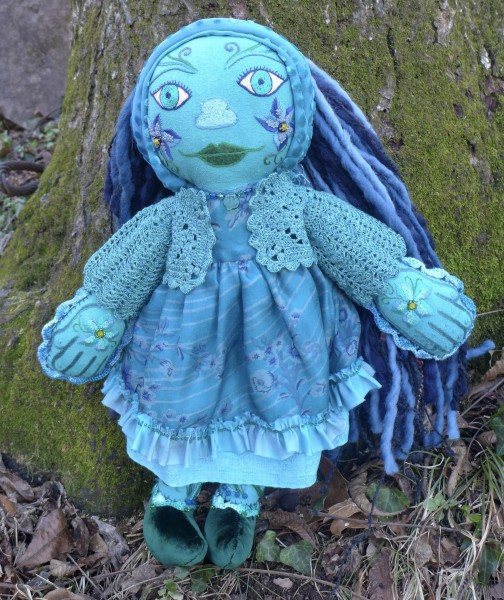 Artist Bio / Statement
I am a doll maker and visual artist working primarily in fiber and assemblage. I grew up in a small town in New Hampshire and started learning fiber arts (crochet, sewing, embroidery and dye work) from my needle working family at a very young age. I was an honors student at Massachusetts College of Art quite a long time ago, but I still appreciate the grounding in the language of art which that experience gave me. I currently live in Huntsville, Alabama with my mad scientist husband, lots of beloved animals, and my art, which has a life of it's own.
I make large and small cloth dolls, altered books, and assemblage boxes. I am always inspired by colors and how they interact with each other, and how they are influenced by texture and material. For my dolls I am inspired also by the legends and folk beliefs of the British Isles. I love to see if I can translate a mythical being or a folk figure into a recognizable doll. I love to make beautiful things. There is so much discord in the world now that I want to create as much beauty as I can in my art.
I use Dharma products in my dolls as all of them are hand-dyed with Dharma Procion Dyes on Dharma's raw silk. They are often embroidered with Dharma's silk ribbon (also hand-dyed with Procyon dyes) in various widths. Sometimes in my small "Lucky Betty" dolls I use Dharma's dupioni silk as well. In those smaller dolls I use the Pentel dye sticks for fabric to color out a base for my embroidery. In some of the dolls such as The UnSeelie Girl there is crochet work where the thread has been dyed with Procion dye as well. I'm a big fan of Dharma Fiber Reactive Procion dyes!
Contact Info
My name is Ruth Marie Fledermaus, and my website is www.ruthiebat.com . My email is ruthiebat@hotmail.com
Dharma Products Used
Please see the description for a list of products used.