Featured Artist : Jennifer A. Masse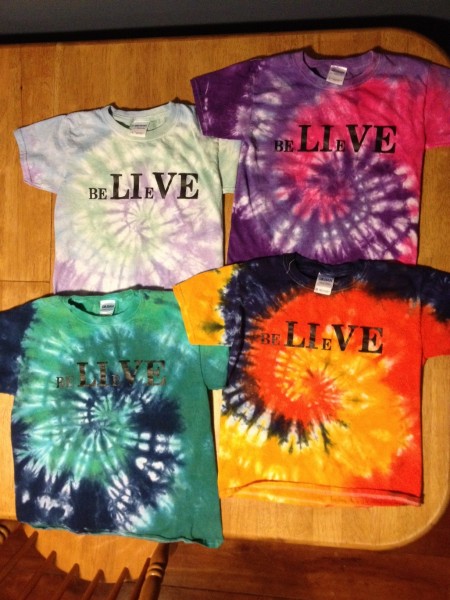 Artist Bio / Statement
When my 7-year old son, Andrew was diagnosed with brain cancer on New Year's Eve, 2013, my happy, crazy, busy world was turned upside-down. One day I was a mother of four and a full-time engineer with calendars and spreadsheets and plans for the future, and the next I was a stay-at-home mom not sure what the next day would bring. I quickly found out that I had too much time on my hands to think, and that was NOT a good thing. I needed a project.
I had always hosted "tie-dye parties" at my house in the summer with local families bringing things over to dye, and I found through trial and error (lots of error lol) that the Dharma Reactive Procion dyes were the best out there. The rainbow of choices, the colorfastness, and the vivid hues made it tough for the kids to only choose a few colors for each shirt! And I knew that tie-dying was fun, creative and uplifting for me.
So I contacted a local shirt printer, Pineridge Enterprises in Eden, NY, and we came up with a design based on the slogan for Roswell Park Cancer Institute, where Andrew was receiving daily radiation treatments. "beLIeVE" Short, sweet, and to the point. They made me my first batch of 200 shirts, I tie-dyed them, and brought them with me everyday to the hospital to let the other cancer kids there pick out their favorite colors. They were SUCH a hit! The kids got such smiles on their faces when they saw all the bright colors. In fact, they were such a hit that the doctors, nurses and parents wanted shirts, too, so I had to start charging for the adult sizes. With the help of a friend of mine we put together www.BelieveInAndrew.com. Since then, I have made over 1,000 beLIeVE shirts and hope to make many, many more. Not only are they keeping me busy, but they are helping me pay the medical bills, one shirt at a time.
Andrew is about halfway through his year of chemotherapy and radiation. The surgeons successfully removed his ENTIRE brain tumor, and his prognosis is very, very good. Someday he will ask me why in every picture from this year he is wearing a different color beLIeVE shirt...
Contact Info
Jennifer A. Masse
Buffalo, New York
Dharma Products Used
Please see the description for a list of products used.