Featured Artist : Marcus Floyd
Infinite Kustomz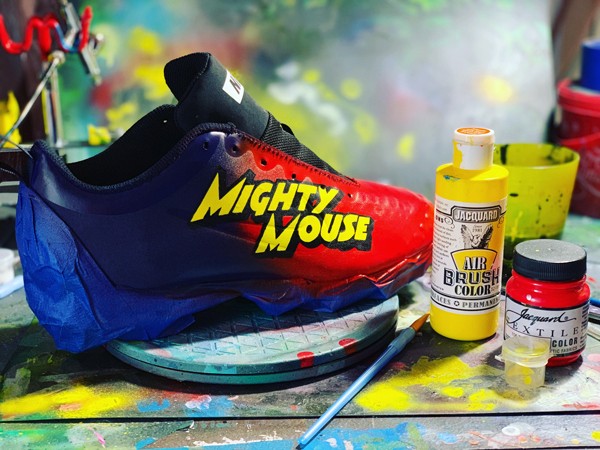 Artist Bio / Statement
Hi, my name is Marcus Floyd aka Infinite Kustomz. I am a sneaker artist/customizer. Customizing shoes allows me to combine two things I love, sneakers and art. There is no limit to the level of creativity that you can express on a shoe. I've customized shoes for people's children of their favorite cartoon to a pair of cancer awareness Nikes. Painting is a stress reliever for me, when I'm painting nothing else matters. It's satisfying having a customer describe what they want and having that image take shape on their favorite pair of shoes or cleats. I achieve this by airbrushing or painting with a brush. If I'm airbrushing I use Jacquard airbrush paint. I like Jacquard because it's ready to spray, you won't need any additives. If I'm using my paint brush I'll use Angelus paint. Angelus has a wide array of colors and they bond well to leather. Angelus offers a lot of "mix-ins" for their leather paint line, you have 2 thin which will allow you to use their paint in an airbrush, 2 soft which is used to keep different shoe fabrics soft (you'll need a heat gun to heat set it) and 2 hard which is used to help the paint bond to plastic materials on shoes and or cleats. I love both paints and use both concurrently.
Good luck and most importantly be patient but persistent, Infinitekustomz!!!
Contact Info
Dharma Products Used
Please see the description for a list of products used.