Featured Artist : Deborah Ann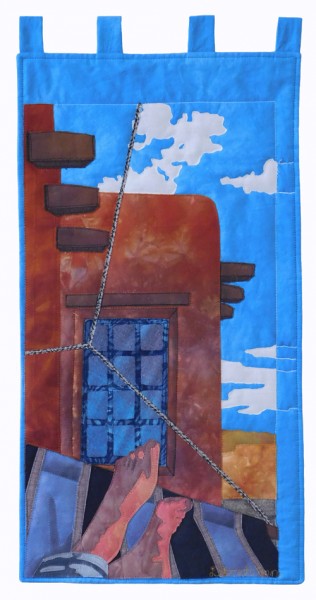 Artist Bio / Statement
Creating art has been the focus of my life. By the mid 60's I was working exclusively in fibers and started making off-the-loom pieces, macramé and large-scale crocheting. There is something special about the touch of fiber, that is a connection with the earth, you don't find in other 2-dimentional art forms.
In the early 1970s, fabric sculpture became my chosen art form while I experimented with 2-dimensional works. While still living in Detroit, Michigan, I regularly showed my work in galleries. I have continued to push the medium and work through drawing, painting and embellishments on fabric art.
My work features images of people who are less fortunate and often overlooked in our culture, and many of these "portraits" are based on those who live in Yakima. When I traveled I captured images of Spain, Mexico, Germany and Prague to share in fabric. Portraiture is one of my greatest challenges. I also embrace landscape as a theme in my work; I focus on areas I've lived in or seen.
I was able to retire to my studio in 2010. Having more time meant I could explore more mediums and have since started working in mixed media creating tabletop size sculptures. They are very spontaneous and often quite whimsical which a nice departure from my more tedious fabric art.
In the past few years I have been asked to paint large murals, which I do with the help of a talented group of women artists. Doing this has pushed my concept of what I am capable of doing creatively. It is exhilarating to work in collaboration with other talented people.
DHARMA PRODUCTS USED
Dharma Fiber Reactive Dye- I dye most of my fabric to get just the color variation needed. I also order other dye related supplies from Dharma such as Synthrapol, soda ash and thickener
Shiva Paintstik and Lumiere paints that I order from Dharma
You are my source for anything I need to manipulate fabric!
Contact Info
Deborah Ann
Deborahanne1946@gmail.com