Featured Artist : Deanna Maze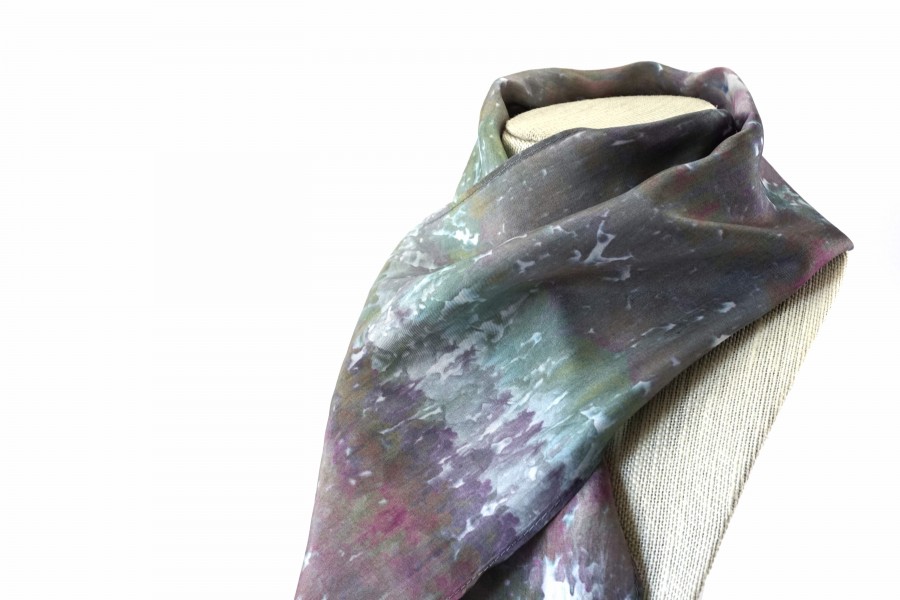 Artist Bio / Statement
Good day! I'm Deanna, the crafter and curator behind my silkwear business, East Street Hive. I live in Ohio with my wonderful husband and partner, Joel. Together, we run our small shop out of our home studio. I've been running my business full time for about a year, and it's been a challenging and wonderful experience.
I'm a tactile person, drawn especially to the smooth fluidity of silk, and am passionate about color. I have spent over a decade studying fibers and the art of dyeing, and hold a Bachelor's Degree in Fiber Arts.
I'm inspired by history and our connection to those who have lived before us. I like to say that my pieces come from the crossroads of ancient materials and modern design. Each of our designs gets its namesake from an ancient site along the Silk Road. I consider the ambience of each city and village and create colorscapes based on their particular feel (for example, our Nisa Silk is a deep, rich desert orange, and our Caspian Silk reflects the pale silvery blues of the sea). As our customers trace their fingertips over the sleek and shining weave of their new silks, it is my hope that they do indeed feel the pulse of their own palpable connection to the past.
I began ice dyeing because I'm inspired by nature's organic and abstract way of growing and forming, and ice dyeing is one way of letting go of control, letting my art form on its own. I love that as the ice melts, it draws the dye down into exquisite patterns unattainable by any controlled method of dyeing. The resulting effect is somewhere between a Rorschach painting and a butterfly wing: that is to say, stunning.
As for Dharma products, I use Fiber Reactive Dyes (always a treat to see what'll seep out when they're ice dyed!) and a variety of silk scarves. My bestsellers are the 8mm Habotai scarves in 8" x 52", 14" x 70", and the narrow infinity, but since we introduced 12mm Silk Satin pieces in 8" x 52", 14" x 70", and 21" x 86", those have been quite popular as well. I also purchase all of my necessaries like soda ash and urea from Dharma. I've been using Dharma products for over a decade now, and have always been pleased with their products and customer service. I'm an especially big fan of their ridiculous email campaigns (PO-TA-TOES!).
Thank you for reading this far (you deserve some sort of prize! Go make yourself a cup of tea), and thank you Dharma for providing us with the tools we need to do the work we love.
Contact Info
Name: Deanna Maze
Company Name: East Street Hive
Website: www.eaststreethive.com
Email: deanna@eaststreethive.com
Dharma Products Used
Please see the description for a list of products used.