Featured Artist : Caitlin Cieslewska
String Theory Colorworks Self-Striping Yarn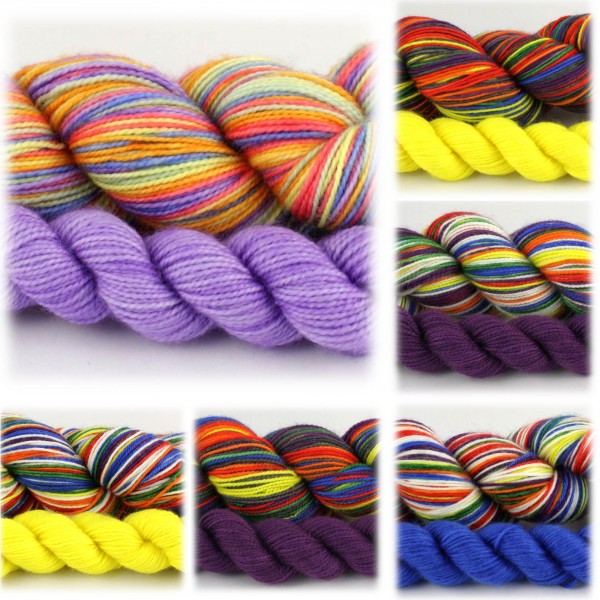 Artist Bio / Statement
My name is Caitlin Cieslewska, and I am the dyer/owner/yarn wrangler at String Theory Colorworks Self-Striping Yarn. I hand dye, one color at a time, self striping yarns for hand knitting, weaving, and crochet. A self striping yarn is a yarn that is dyed in such a way that you have long (15-50 feet) sections of the same color, so that when you work it up into smaller diameter objects, it will create stripes all on its own without having to change yarns.
I am a science nerd with a Bachelor's in Animal Biology. All my colorways are inspired by some aspect of science--I have biology colorways, space colorways, chemistry, physics, and so on. Sometimes, as is the case for the W49B colorway or the Lymire edwardsii colorway, I am given an image to work from, but often I find inspiration in the science itself. For example, the Geosmin colorway was inspired by the smell of Geosmin, petrichor, which is the smell of earth after a rain. The colors in that one have the dark navy of a rainy sky, the dark blue of the sky just before the rain, the red mud from where I originally dyed the colorway in New Mexico, and the bright, fresh green of newly sprouted plants.
I use Dharma Trading Acid dyes and Jacquard Acid dyes for all of my colorways. I love the great variety of colors that Dharma produces--colors I could never get just by mixing primary colors on my own. My personal favorites are Deep Purple and Radioactive--I use them a lot.
Contact Info
Dharma Products Used
Please see the description for a list of products used.