Featured Artist : Blaine A. Ratzlaff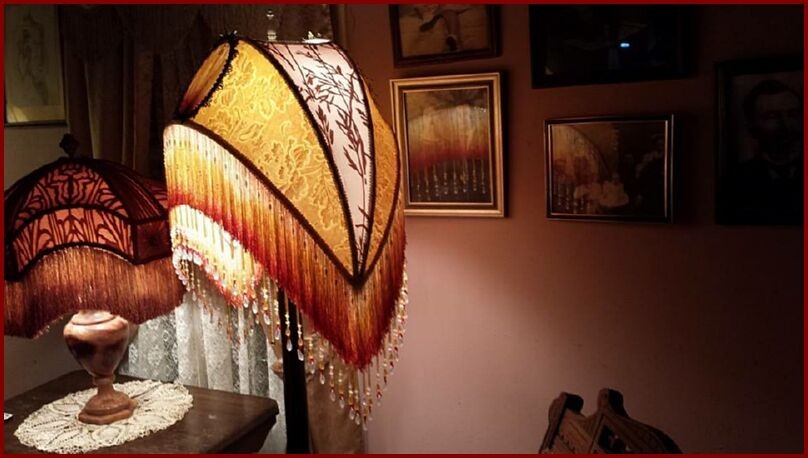 Artist Bio / Statement
In December of 2012, I was just beginning to succumb to the condition that I now deal with, I had lost the detail use of my hands and could no longer draw. As for graphite artist and photographer this was a crippling future to endure.
While sitting in the first room of our Victorian that we greet people when they enter our home, I realized as an Interior Decorator it was too harshly lit, so I started looking for period fabric shades to soften the lighting, to give it a more elegant feel. While researching the Victorian Shades of artists online, I quickly realized there was no way I could afford these beauties any time soon. That is till I found a lady on eBay who was selling her shades in the price ranges from $79.00 for a small to $149.00 for a medium sized shade! These shades "looked" very nice and fit the colors of our room, and she would do custom colors as well!!! I quickly bought a small open tulip from her for $79.00 plus shipping, but I also bought another tulip from someone in Florida for $49.00 as well. This lady was having trouble "getting a box big enough" for the shade…(?) so I waited for her to get everything she needed before I sent her the money. While I waited for her, the first one arrived and much to my horror… I wanted to take it and throw it in the trash can because it was created with Hot Glue! (NO RETURNS!) Now, Hot Glue is NOT to be used for any reason for anything when it comes to lamp shades because of the first word being "hot." The shade is close to the light and the glue never becomes solid or stable, if it gets warm enough, it will liquefy, as ours did! (more about this later) The lady in Florida finally got the box needed to send the tulip she had, so I sent the money and waited. When it finally arrived I "could hardly get the box in the door" as it was so big! Once I opened it, I screamed!!! It was an antique original, fair condition Tulip extra-large, (a lamp shade that is 24" tall by 19" across) all silk fringe, lace rosettes, some gimp was missing, some was loose, the lining was torn from age, but I didn't care, I had an original I could study and hopefully learn how to do a rosette!
Back to the small tulip hot glue mess...
It had now been over 90 days, just past the grievance filing time for eBay, I came down one evening into the parlor where this shade was on an antique lamp of ours, as I entered the room I had the most distinct odor of burning chemical and smoldering fabric coming from somewhere from inside this room. In a panic I scanned the room and found this shade had a plume of smoke lightly billowing out from its top. I ran to unplug the lamp before we had a full blown fire, then to inspect just what happened. The lady who created this fire hazard covered the inside of the wire with gimp and so much hot glue that a large part of gimp came loose and fell on top of the 60 watt bulb and it started to burn. The next day, I grabbed a bottle of lighter fluid, a lighter, an old lamp stand that had no electrical parts to it, and had a little sacrifice of my own outside in the back yard!!! This frame is the one I started playing with, and started teaching myself how to do the rosettes and fan pleats. I continued to purchase other old shades that were already covered and some bare as well off of eBay for our home. All eventually did become recovered but it wasn't till I got my first commissioned customer who shared with me a DVD by Mary Maxwell called 'How to make "Victorian Style" Lamp Shades' that she had purchased as part of a kit, but couldn't get anywhere with the DVD, so she sent it on to me thinking it might help. The DVD taught me quite a bit, and reaffirmed much of what I already had taught myself. From this DVD, I bought the other 2 from Mary, and we became good friends, and she is a mentor of mine.
Even though I knew where to get the lamp shade frames, and I had someone to buy recycled brocade silk wedding dresses from locally, the fine silk was a challenge till I found out that right downtown was a shop that actually sold fine woven silk that I needed for all the basic necessities. In November of 2014, after posting a progress post on my current customers shade, I was asked by another friend if I could do one for her. This eventually led me to the doorstep of Dharma Trading. I was always fearful for sharing these images with anyone here, because I take the finished garment and cut it up into pieces for my own inspired visions.
Project 1 "The Beaded Extravaganza"
This client had a request, in fact it was easy to follow after she sent me a color palette to use... "she loved beads!" But first, lets start with the silk. The first image is of the Devore Satin with fringe item #DCS14F, in fact I had to order two scarves just so I had enough fringe to do the bottom of the shade. We chose to dye the background silk Avocado, and the Bamboo is Hunter Green, thus showing off a beautiful shadow effect when the light is on inside the lamp. Now with the fringe, just having the pieces weren't enough, I had to untie the knots and join the segments together so one could not see where the joints were.... not exactly an easy task. The only way to do this was to tie them off on a flat shade before the fringe was actually dyed.
After 9,752 hand sewn beads... a nail biting shipment the shade arrived in PA.
Project 2. "The Cosmopolitan"
Inspired by what I thought was a Brown Marble Victorian lamp, only to find out later to be a 1920's lamp of a decimated Victorian Urn made of a rare Brown Alabaster. When I realized that the electrical was not as old as I originally thought, well an art deco period shade would be perfect! It had been just over a year since I finished the "Beaded Extravaganza," but I remembered a beautiful Art Deco patterned scarf #DCS14 and sure enough, there it was. Ordered two again as I saw the pattern I liked with the largest available for the frame I had, and the colors were matched off the Alabaster.
And finally...
Project 3. "Rise of the Harvest Moon"
This was one of the hardest shades for me to envision. Every time I tried something new it failed. I had spent 2 months prep time getting the hand sewn beaded fringe ready well before I even started this shade so I had plenty of time to think of how I was going to "map things out." This is how I work with new projects, and how I create shades, but this one was a real challenge and it seemed that it didn't want to be created. I went through 4 different fabric ideas for the side panels till I finally pulled out the Bamboo that I had left over from my first purchase and dyed it a rich tan so it would not clash with the gold brocade. The fan pleat in the center circle was dyed two colors, gold and red, but the red turned brown? This is what threw me off and caused problems for the rest of the shade till I made the final decision for the Bamboo and I couldn't be happier.
~~~~~~
So this is my story of how I started creating Victorian Lamp Shades, but selling them, making money has and always be a side project for me, for me, because for me, these are works of art, the art that I can no longer create with graphite or standing behind the lens. I suffer from Deep Tissue Myalgia, a severe case of Fybro Myalgia along with Neuropathy the two conditions can and do cause pain to erupt at a moments notice and make me sidelined for days. This is what I was enduring, sitting in my parlor looking around the room I created knowing it was the last work of art that I may ever be able to create.
As your page asks, "what inspires me?" That's a good question... because it could be a myriad of things, from architecture to art, a dress I see hanging in a second hand store that has a beautiful panel of fabric in it that has potential, or... my favorite place to window shop, Dharma Trading. I look at the patterns of your "burn out" scarves and get inspired. My hope is that I will be able to create a shade with every piece of scarf or fabric you have that has inspired me, but then I'm not that wealthy!
Contact Info
Dharma Products Used
Please see the description for a list of products used.